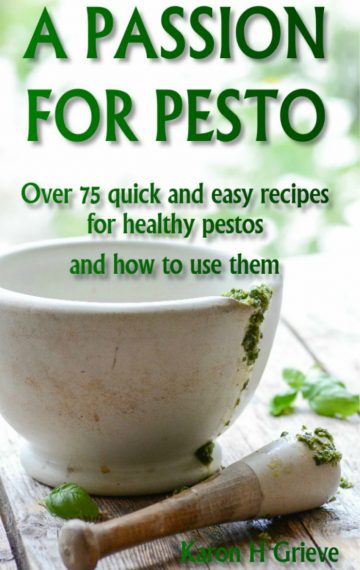 Downnload Now
What is pesto?
Pesto is that glorious green sauce usually made with basil and hailing from Italy.  Pesto, the ultimate fast food, perfect for dipping, snacking, sandwiches, soups and pasta sauces.
Pesto is a great way to add extra flavour and texture to any simple dish.
Learn about the history of pesto, where it comes from and the glorious ingredients involved.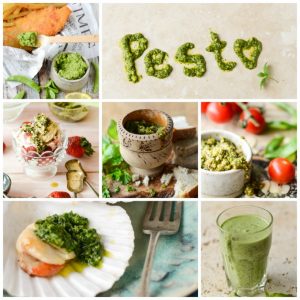 Learn How To Make over 50 amazing pestos from herbal to veggie and even sweet fruit pestos too!
Did you read that right, veggie pestos and FRUIT pesto? Yes you did. I make pesto from everything, after-all the word pesto is from the Italian word to pound which means your pesto can be pounded from anything you like really.
My fruit pestos, while omitting garlic and the usual savoury taste are the perfect additives to ice-cream and summer puddings, adding their own flavours and textures to any dish.
All of these recipes are easy to work with and all the ingredients easy to source in most super markets and local shops.
There really is no excuse to buy those dubious little jars of green goo in the supermarket that lack taste and certainly any type of originality. Step away from those jars and get crafty in the kitchen making your own pesto from scratch.
Pesto is so easy to make either with a food processor in less than five minutes or by hand with a pestle and mortar taking a few minutes more and throwing in a bit of calming mindfulness at the same time!
It's quick, easy, healthy, tasty and fun!
I also give you 15 recipes for how to use your pestos in all sorts of tasty ways.
Have Fun With These Super Easy Recipes And Create Some Really Fabulous Pesto.
This informative Ebook is fully illustrated throughout with delightful colour photographs for every recipe.
Priced at £10 (including EU VAT)
Just click on the download link to get your copy of A Passion For Pesto and your Paypal account will work everything out in your own currency.