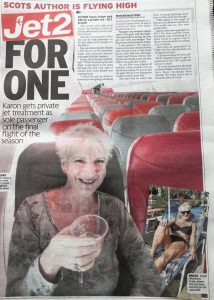 On 22nd October on my 19th flight of the year I found myself the only person the the flight to Heraklion from Glasgow. It was the last flight of the season so I knew there would only be a few people on the outbound flight as it was basically going out there to bring back the last of the holiday makers so would be full. I was a tad surprised to be the only one on the plane and it was terrific fun, my own private jet.
Anyway that wasn't the best, or indeed the end of the adventure, it was merely the beginning. When I was on the beach the next day I send a quick email to a journalist in Glasgow and he phoned me right back asking for a photo of me on the beach and saying it was a fun story and they might get it into the paper at the weekend. Well it was obviously a slow week as they put it into the paper the very next day as a full page spread and a LOT of other newspapers immediately picked up on it.
Suddenly I was in the middle of a media maelstrom and was being interviewed for newspapers, doing radio interviews and even TV interviews via iphone for TV channels all over the world.
The story went viral and I even ended up trending at number two in the world, only beaten by Robbie Williams who wasn't well at the time. I had impressed Teenager at long last, especially when I popped up as a question on Have I got News For You that week.
They'd all said I was a novelist in the articles etc and I was indeed in Crete trying to rewrite one novel and start another. This was my grown-up gap year, me escaping the nest before my beloved Teenager left for university. My thinking as if I left first it wouldn't hurt so much when she did. Anyway I was backwards and forwards to Crete all summer, even flying home to appear on Kirstie Allsopp's TV show Kirstie's Handmade Christmas.
But back to the writing, I was struggling with the book and just couldn't get to grips with it, nothing was working and all this media attention gave me the idea to write a funny diary of my year in Crete. My grown-up gap year in Crete. I poured over my diary and all my Facebook posts and pulled them together and did a whole load more writing to produce a 300 page book.
Coming back to the UK the week before Christmas I started sending it out to agents. It wasn't picked up and I am so grateful for that. What I didn't get a book deal and I was grateful? Yes, because I know now that it was all a learning curve last year and the beginning of this year. I'd faced some of my worst fears and I survived, I had an amazing adventure that actually brought my daughter (always referred to as Teenager) and I closer. I realised that I didn't want to share this as it was, but it was all there, all the memories, all the ups and downs and fabulous amazing times. It will be great fodder for a novel, ramped up and made funnier. I was glad that the outside world wouldn't get to read it as me, it was just too personal.
So that's why The Girl On The Plane (My Failed Grown-Up Gap Year In Crete) has ended up being research. I learned so much last year about myself more than anything else and that sort of research is worth it's weight in gold.