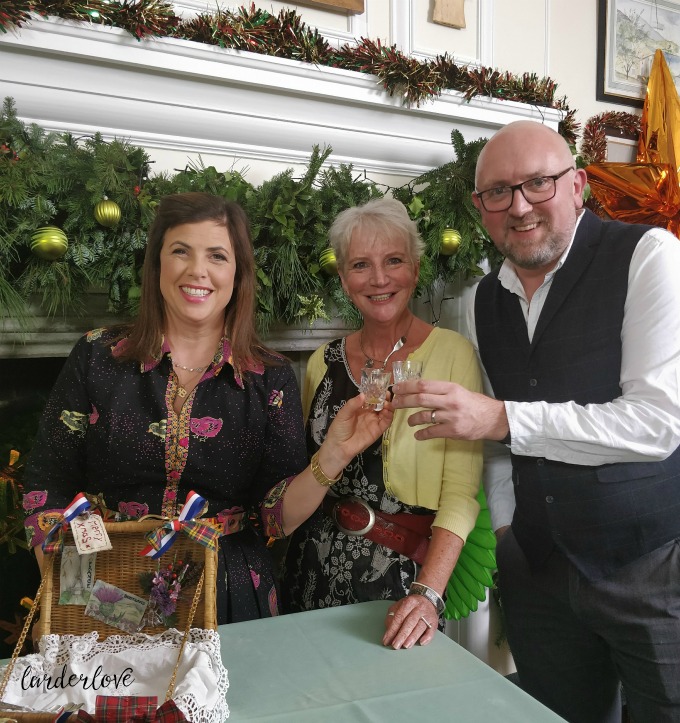 In 2017 I was surprised, thrilled and honoured to be a finalist in the TV show Kirstie's Handmade Christmas on Channel 4. I say supervised because I hadn't actually entered. I was in the Hamper Class and the idea was to create a Christmas hamper on a theme with five foodie items inside. This was in September and I was just back from Crete and heading off for a couple of days in France. I had to come up with a theme and ideas for contents pretty damn quick as they wanted to come and film at my house as soon as I returned from France.
I chose the theme The Auld Alliance, the bond between Scotland and France that dates back to the days of Bonnie Prince Charlie and a bit of ganging up against the English. The idea being to have two Scottish items, two French and one that was a combo of both countries.
To this end I came up with Bordeaux Jelly (red wine jelly) (recipe on my Larder Love blog here), homemade goat's cheese balls with herbs de Provence and pimente d'espilette (similar recipe for Labneh with herbs in oil here). Well that was France taken care of, now for Scotland. I just had to make my Scottish minty macaroons (recipe here) and it wouldn't be a decent hamper without some hooch, so I came up with my own version of Drambuie and spent bloody ages making labels for the bottle to look like their iconic labels and called mine Scotch Mist (here's the recipe). For the fusion piece I made oat and almond crumble crackers which were basically oatcakes but with almonds (recipe here).
Anyway when they were filming at my house (instant clean up involved here and decorate kitchen for Christmas) I had to make the goat's cheese in the herbs de Provence about eleventy billion times (okay a few times) till it looked right on camera.
Anyway I then jet off back to Crete and come back a few weeks later in October for the final filming down at Kirstie's place in Devon. Everything was ready. My hamper all ready to be decorated, the hooch, sweets, cheese and jelly all done and ready to go. I just had to make the crackers on the day. Well I flew back from Crete on the Friday, spent the day at dentists panicking over broken veneer and then tried that recipe again and again over the weekend. I'd made these things loads of times before but for some reason they just didn't want to work for me and I threw out dozens of the damn things.
Come the Monday I flew down with my case packed with festive goodies and had a great time with the other ladies in my class and the gang who were also filming on the same day making Christmas stockings. The location was marvelous, we all got on really well and Kirstie was always friendly and chatty. Alas my sodding crackers let me down yet again. I called them crumble crackers and the word crumble was the operative one. The damn things just broke apart when they came out of the oven.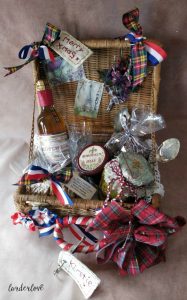 The girl who won (Tiffany) was lovely and had made a foraged hamper with hand carved knives and spoons and labels all in wood. The other entrants had a child friendly hamper for kids to make their own goodies and even a tiny bottle of gin for the knackered mother, and an Anglo Indian fusion basket in a giant wicker tea cup. We really had a diverse group of hampers.
It was party time after the shoot back at the hotel with the Christmas stocking gang and I'm afraid what was left in my hamper got scoffed that night. At least I came back with luggage a lot lighter than when I set out a few days before.
A few days later (22ndOctober) I flew back to Crete and found myself the only person on the plane and caused a media frenzy.
My part of Kirstie's Handmade Christmas was on TV on 18th December so I just made it back to Scotland in time to see the show and relive the horror of those crackers all over again!