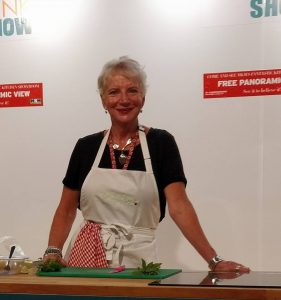 I got lucky in the talks and demos department. It all started back in 2006 when I started doing the Country Living magazine fairs in Glasgow. At that time I had a herb crafting business called Dream Acres where I made and sold all sorts of herbal goodies from air fresheners and herb blends to sleep sacks and pot pourri. I would take a stand at these big fairs and so envy the people who did the talks and demos in the lifestyle theatre, crafting classes and most especially the food theatre. I dreamed of doing that type of thing.
Roll on a few years and its 2009 and I managed to wangle my first talk in the lifestyle theatre talking about how to make herbal home fragrance for Christmas. In 2010 I had my first book published, So Easy Herbal and was asked to do cooking demos in the food theatre, wow I had hit the big time as far as I was concerned. I also started to teach craft classes at the Country Living Fairs as well. From then on I did all three areas of the show every year.
I also approached other organisations that held big events, Like Scottish Homes & Interiors. Then people started to approach me and I found myself a regular at the big Gardening Scotland show in the spring, Edinburgh Foodies festivals, Scottish Food & Drink Show and also smaller foodie festivals.
Right back in 2010 I offered myself up on the WRI (Woman's Rural Institute) circuit to do talks and demos for them andd sold my books at these events as well. Over the years I have done these all over Scotland and even on the beautiful island of Bute as well. To me to event is too big or too small and I've done gardening clubs and groups all over the place.
Show and tell is very much my thing and when it comes to cooking demos I love to show people that if I can make any of my recipes on a stage in front of say 100 people they can easily do this at home in the comfort of their own kitchen. My whole ethos with cooking is making things easy and fun and I hope I put this across in my talks and demos.
I'd certainly say that doing talks and demos is the best way to get your books out there to people face to face. You are there to show how to do things and answer questions to. It makes you far more real to people and gives them the confidence to actually have a go at making your recipes too.